Satellite Installations Nottingham

Freesat provides you with the same high quality television as Freeview but with more channel, lot`s more channels. Currently there are more than 140 free channels available and also some high definition channels, and this is increasing all the time.
We can provide all types of satellite, Sky HD and Freesat installation (and repairs) services, Our satellite TV engineers have vast experience installing satellite television systems in Nottingham.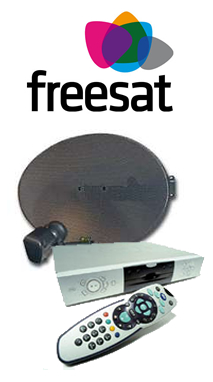 Do you suffer from:
Sky TV installation and upgrades
Freesat & European Satellite TV
Foreign Sports & football channels
Full Motorised Satellite Dish Installation
Satellite dish relocation for home movers
Dish repairs and replacements
Wish to add sky multiroom in other rooms?
We offer a fixed price freesat installation service quoted over the phone and can usually carry out the work within 1 to 3 working days anywhere in the Nottingham area using the best digital metering equipment to ensure you pick up a perfect signal.

Freesat
Over 200 TV & radio, 12 HD
No monthly payment. Wide range of free channels including true movies 1 & 2, CBS action and drama, lots of Music channels etc. More being added all the time.